What's up Holyoke?! Want to check out some new and/or unique products? Stop no further than Holyoke Cannabis, your premium Holyoke recreational dispensary and check out what our professional budtenders have selected for this week's Staff Picks. We're checking out Peanut Butter Breath flower, Granddaddy Cake Airo Vape Pods, and LA Confidential Wax. We'll break it down and tell you what's up! If these aren't your jam then check out our online store or stop in today and talk to one of our budtenders who will get you feeling right no matter the vibe!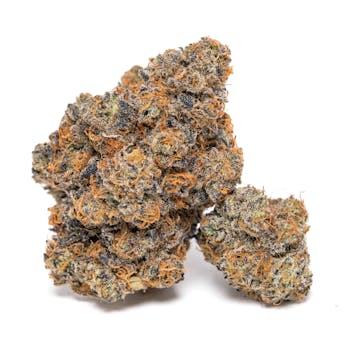 Hybrid | 25.29% THC | 0.06% CBD | 26.33% TAC
If you're a culture stoner than you've definitely heard of Happy Valley. They're one of the top cultivators in the country; hand trimmed buds, verified genetics, and meticulously cured, the works. We at Holyoke Cannabis strive to provide our clients with top tier flower and Peanut Butter Breath is no exception. This hybrid strain is a cross between Do Si Dos and Mendo Breath bred by Thug Pug Genetics. It has a very nutty terpene profile followed up with a heavily sedating high. Peanut Butter Breath is not a "wake and bake" strain, it is a first round knock out punch to your dome. Peanut Butter Breath is great for ending a stress-filled work day when you're ready to head to Couch-Lock City, population: you. Not only is it a great tasting strain, but the bag appeal is obvious at first glance with bright orange stigmas and flecks of purple cover the nugs against a green medley background. If you're trying to find a new strain that hits heavy without the anxiety that can be associated with high THC strains then check out Peanut Butter Breath by Happy Valley!
0.5g | Indica | 84.7% THC | 0.2% CBD | 91.2% TAC
If you've got an AIROPro or AIROSport then you already know what's up with Airo Pods, but if you don't then keep reading! These Granddaddy Cake Live Resin Vape Carts are no joke. With 0.5g of over 90% TAC Granddaddy Cake Live Resin, these Airo pods hit like a freight train. Thanks to the live resin, the flavor is amazing with a rich and tangy flavor and hints of grapes, berries, and earthy pepper. Our budtenders find the Airo Live Flower Series to be the closest any oil has gotten to actual freshly cured flower and can't recommend it enough. Users will find that the Granddaddy Cake Live Resin carts have a relaxing euphoric effect as well as a mental calm that many indicas don't get quite right. Between the high THC concentration, the great terpene flavor profile, and the smooth vapor, any AIRO Vape user looking for an after-dinner treat should consider adding Granddaddy Cake Live Resin Vape Airo Pods to their line-up.
1g | Hybrid | 85.1% THC | 0.2% CBD | 89.7% TAC
We've been over how amazing Sira Naturals' entire line-up is, but their Origyn Wax brand is exceptionally good even for them. LA Confidential, a.k.a. "Confidential", a.k.a. "Confidential OG", is a pretty well know and loved hybrid strain thanks to the rap world. Artists such as Snoop Dog and Cypress Hill have helped skyrocket LA Confidential to an almost celebrity level of fame. A well-rounded Sativa-Indica hybrid, LA Confidential originates from Afghani and California Indica. The buds themselves tend to have deep red stigma hairs that sweep across dark green leaves, frosted with THC crystals, and a sweet pine flavor with hints of gas. Sira Naturals went ahead and took this already resinous strain and turned it into an incredibly potent wax. If you're not an experienced concentrate user you may find yourself asleep on the couch before you know it, however regular users may find the effect to be more relaxing than sedating. Whether you're a new user or an "OG" you've got to give the Origyn LA Confidential Wax a try today!
---
---

---
Señales NEGRAS y VERDES
Call 413-322-8611 for more information
Or
Please consume responsibly. There may be health risks associated with consumption of this product. For use only by adults 21 years of age or older. Keep out of the reach of children. Nothing for sale.
---
NUESTRA MISIÓN
Aquí en Holyoke Cannabis, nuestra misión consiste en llevar productos recreativos de primera calidad de todas sus formas a un dispensario amigable y versado. Si eres alguien que disfruta durante todo el día o un usuario por primera vez, puedes confiar en Holyoke Cannabis para mejorar tu experiencia recreativa. Suministramos una selección diversa de flores, bolígrafos, comestibles, pre-rollitos, concentrados, ¡de todo!
Our friendly staff is here to help with any and all of your cannabis needs. With as much or as little hands on time with our budtenders and staff, you are left to choose what buying experience pleases you. Just browsing or do not need assistance? Not a problem! Just let us know when you are ready, and we will supply you with whatever you need. Paper menus and seating will be available around the shop. Come in today and see why we are your go-to Massachusett's recreational dispensary!
Customer Safety During COVID-19
Holyoke Cannabis implements a wide range of sanitation and safety measures. Health and security are major priorities for their walk-in customers. "We are constantly sanitizing our sales floor and counterspace and offer both hand sanitizer and masks to all customers." explains Jacob Black, Marketing and procurement Manager for Holyoke Cannabis. "Customers can also pre-order through our website www.holyokecannabis.com in order to decrease your time spent in store. We take our customers safety concerns extremely seriously.".  If you have any questions or concerns, please call 413-322-8611 and a Holyoke Cannabis Bud Tender will have the answer you need.
Products and Education
Due to the previously mentioned influx of cannabis users joining the recreational market, one major goal of Holyoke Cannabis is to properly educate and inform for both its Budtenders and Customers. Holyoke Cannabis provides an extensive product guide that details/describes all major forms of cannabis intake from yummy edibles to old school buds and everything in between. If you are more of a person-to-person learner, the Holyoke Cannabis staff is more than happy to answer all questions in a warm and friendly environment.
Revitalization of Holyoke and Holyoke Cannabis
With so many amazing business's moving into the beautiful Mill area of 380 Dwight Street, Holyoke Cannabis expects a bright future for economic, infrastructural, and social uplift throughout Holyoke and its surrounding areas. "Holyoke Cannabis is excited to be part of such a driven community of business owners" "We only see things going up from here" remarked Jaron as the sound of new construction rings out from outside.
Location and Access
Access to transportation whether it be long distances, or one town over can be a great concern for customers who wish to partake in cannabis product safely. Holyoke Cannabis and the 380 Dwight St. plaza is located only a short distance from both a train station and local bus stop and is available to all.