What Type of Cannabis Concentrate is for Me?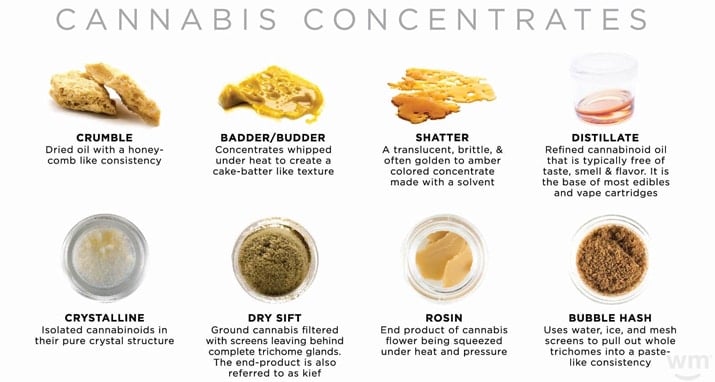 There are different kinds of concentrate?
Last time we spoke about what a cannabis concentrate is and how one might use a concentrate to reach a therapeutic effect. When looking through the concentrate section of a recreational dispensary menu one thing might pop out to you. Not only do they have different strain names, but they ALSO have different classifications or descriptors. Things like shatter, badder, budder, wax, crumble, resin, rosin, sauce, the list goes on. These descriptors refer to the consistency of the concentrate and can give you some insight into how it was extracted and created. Here we will talk about a few popular forms of cannabis concentrate.
Shatter Concentrate:
Shatter is a honey or amber colored concentrate and has a consistency that ranges from a sap like texture to a brittle glass like texture. The color and texture of shatter concentrate will largely depend on the skill of the extractor and the quality and type of the cannabis material being used. Shatter concentrate is generally made with a hydrocarbon extraction method using either Co2 or butane.
Wax Concentrate:
Wax or sometimes known as budder has a cookie dough like texture and can range from a tan color to a green hue. Wax concentrate is also generally made through a hydrocarbon extraction using butane or Co2. The playdough or wax like texture of wax concentrate is created through whipping the material post extraction. This can help reduce moisture/solvents and can preserve more terpenes than other methods of producing concentrates.
Rosin Concentrate:
Rosin is a form of concentrate that is only recently becoming popular in the Massachusetts recreational cannabis industry. Rosin concentrate can range from a glass like consistency to a playdough-ish form. Rosin concentrate is produced with zero solvents; it can be created by pressing plant material with a great deal of pressure and a consistent level of heat. Many extractors choose to use kief to make rosin concentrate which has been washed from the plant using water. Even though the process is long, the finished concentrate is well worth it.
Tune in next time with Holyoke Cannabis for more fun cannabis facts!
———————————————————————————–
MONDAY-WEDNESDAY: 8am-8pm
THURSDAY-SUNDAY: 8am-11pm
Customer Safety During COVID-19
Holyoke Cannabis implements a wide range of sanitation and safety measures. Health and security are major priorities for their walk-in customers. "We are constantly sanitizing our sales floor and counterspace and offer both hand sanitizer and masks to all customers." explains Jacob Black, Marketing and procurement Manager for Holyoke Cannabis. "Customers can also pre-order through our website www.holyokecannabis.com in order to decrease your time spent in store. We take our customers safety concerns extremely seriously.".  If you have any questions or concerns, please call 413-322-8611 and a Holyoke Cannabis Bud Tender will have the answer you need.
Products and Education
Due to the previously mentioned influx of cannabis users joining the recreational market, one major goal of Holyoke Cannabis is to properly educate and inform for both its Budtenders and Customers. Holyoke Cannabis provides an extensive product guide that details/describes all major forms of cannabis intake from yummy edibles to old school buds and everything in between. If you are more of a person-to-person learner, the Holyoke Cannabis staff is more than happy to answer all questions in a warm and friendly environment.
Revitalization of Holyoke and Holyoke Cannabis
With so many amazing business's moving into the beautiful Mill area of 380 Dwight Street, Holyoke Cannabis expects a bright future for economic, infrastructural, and social uplift throughout Holyoke and its surrounding areas. "Holyoke Cannabis is excited to be part of such a driven community of business owners" "We only see things going up from here" remarked Jaron as the sound of new construction rings out from outside.
Location and Access
Access to transportation whether it be long distances, or one town over can be a great concern for customers who wish to partake in cannabis product safely. Holyoke Cannabis and the 380 Dwight St. plaza is located only a short distance from both a train station and local bus stop and is available to all.