What are Cannabis Concentrates and Extracts?
What are cannabis concentrates and extracts? Cannabis concentrates and extracts come in a wide range of forms, from weed oil in pre-filled carts to bubble-hash, which can be consumed in a wide range of ways. Concentrates as a whole are produced by distilling down the parts of the cannabis plant that consumers typically want. Typically these include almost all of the cannabinoids as well as the terpenes from cannabis flower without any of the waste products such as chlorophyll. Consequently cannabis concentrates and extracts are extremely potent with THC levels clearing 90% and as such may not be noob friendly.
Sound scary? They're not! Concentrates and extracts can be some of the cleanest ways to enjoy cannabis allowing users to target certain effects without the possible side effects caused from raw flower. We at Holyoke Cannabis are going to walk you through the different kinds of cannabis concentrates and hopefully you can find one that fits you!
THC Rick Simpson Oil (RSO)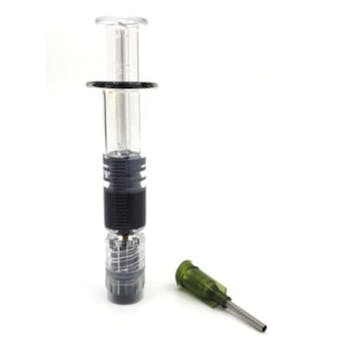 Rick Simpson Oil, more commonly referred to as "RSO", is a full-spectrum cannabis extract that is typically made using a solvent, like grain alcohol or pure naphtha, which is boiled off leaving behind a sticky, potent oil. This method was pioneered by Canadian engineer and cannabis activist, Rick Simpson. Although he doesn't sell RSO directly, he does describe his original process to make it free of charge on his website!
RSO is meant to either be ingested (oral) or applied to the skin (topical) and is great for treating physical pain. RSO is potent with products such as Commonwealth Alternative Care's ONE full-spectrum RSO coming in at over 75% TAC. RSO users find the effects of full-spectrum RSO to be relaxing, yet not drowsy, and a calm happiness coupled with a full-body relaxation when ingested. When applied topically the affected area can experience relief of muscle aches, reduced swelling, and a pleasant body high.
Crumble, Wax, and Budder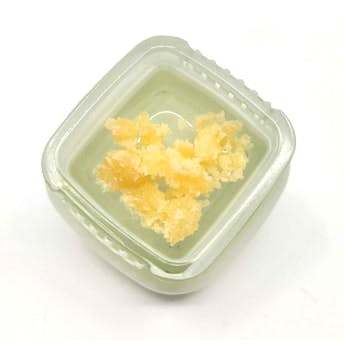 Don't worry, this is way simpler than people make it out to be. Both crumble and budder are forms of wax! The difference in moisture in the oil, heat, and agitation during the extraction process really determine the final product. Wax is commonly extracted using CO2 or butane and both methods are considered very safe amongst enthusiast and manufacturers of cannabis wax.
With THC levels reaching levels of over 90% wax is considered one of the most potent forms of cannabis. Like flower, wax has a wide variety of flavors and effects determined from the strain they were extracted from. For instance Tangie Flo from the ONE line is a 92% TAC sativa hybrid budder while LA Confidential from Origyn is an indica based wax with over 85% TAC. Wax can be rolled into joints, packed onto bowls, or by using an oil rig with a nail/banger that's heated with a torch for pure flavor and instantaneous effects. Wax is STRONG. Use sparingly if you are an unexperienced user.
Kief and Bubble Hash
X-Trates Wedding Cake Kief 1g
Kief is one of the most basic forms of cannabis concentrates. Take any cannabis flower and grind it up in a four-piece and that stuff under the screen? That's the resin glands on the cannabis plant that have fallen off, or what is common called "kief". Almost any user can extract their own kief simply by using a decent three-chamber grinder and collecting the crystals that fall into the bottom chamber. Take those sticky icky crystals filled with cannabinoids and THC and sprinkle them on your next bowl to see what the hype is about.
Kief can turn any normal hit into its own flight to the moon without breaking the bank on more expensive concentrates or extracts. More experienced users can roll their joints in it or even roll their flower in it making their own moon rocks! Cannabis concentrate enthusiasts may take the next step and press their own rosin or try bubble hash extraction. Kief usually comes in around the 40%-50% TAC while bubble hash can be as high as 70% TAC! While they may not be the most pure forms of extract, both kief and bubble hash retain a lot of terp flavor while packing a punch that's above their weight class per dollar.
---

---
BLACK and GREEN signs
Call 413-322-8611 for more information
Or
Please consume responsibly. There may be health risks associated with consumption of this product. For use only by adults 21 years of age or older. Keep out of the reach of children. Nothing for sale.
---
OUR MISSION
Here at Holyoke Cannabis our mission consists of bringing premium, recreational products of all forms into a friendly, well versed dispensary. Whether you are someone who enjoys throughout the day, or a first-time user you can rely on Holyoke Cannabis to elevate your recreational experience. We supply a diverse selection of flower, pens, edibles, pre-rolls, concentrates, everything!
Our friendly staff is here to help with any and all of your cannabis needs. With as much or as little hands on time with our budtenders and staff, you are left to choose what buying experience pleases you. Just browsing or do not need assistance? Not a problem! Just let us know when you are ready, and we will supply you with whatever you need. Paper menus and seating will be available around the shop. Come in today and see why we are your go-to Massachusett's recreational dispensary!
Customer Safety During COVID-19
Holyoke Cannabis implements a wide range of sanitation and safety measures. Health and security are major priorities for their walk-in customers. "We are constantly sanitizing our sales floor and counterspace and offer both hand sanitizer and masks to all customers." explains Jacob Black, Marketing and procurement Manager for Holyoke Cannabis. "Customers can also pre-order through our website www.holyokecannabis.com in order to decrease your time spent in store. We take our customers safety concerns extremely seriously.".  If you have any questions or concerns, please call 413-322-8611 and a Holyoke Cannabis Bud Tender will have the answer you need.
Products and Education
Due to the previously mentioned influx of cannabis users joining the recreational market, one major goal of Holyoke Cannabis is to properly educate and inform for both its Budtenders and Customers. Holyoke Cannabis provides an extensive product guide that details/describes all major forms of cannabis intake from yummy edibles to old school buds and everything in between. If you are more of a person-to-person learner, the Holyoke Cannabis staff is more than happy to answer all questions in a warm and friendly environment.
Revitalization of Holyoke and Holyoke Cannabis
With so many amazing business's moving into the beautiful Mill area of 380 Dwight Street, Holyoke Cannabis expects a bright future for economic, infrastructural, and social uplift throughout Holyoke and its surrounding areas. "Holyoke Cannabis is excited to be part of such a driven community of business owners" "We only see things going up from here" remarked Jaron as the sound of new construction rings out from outside.
Location and Access
Access to transportation whether it be long distances, or one town over can be a great concern for customers who wish to partake in cannabis product safely. Holyoke Cannabis and the 380 Dwight St. plaza is located only a short distance from both a train station and local bus stop and is available to all.