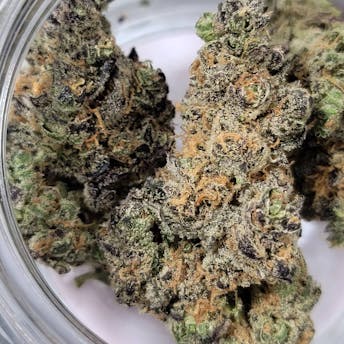 Every week Holyoke Cannabis features a few strains that we find are special. Last week we talked about Dog Patch and Do-Si-Do #22, this week we look at Grape Diamonds and GG#4 available in-store and online! (ask about our Do-Si-Do #22 shake option)
A beautiful name for a beautiful strain! Grape Diamonds is a down the middle 50/50 Hybrid strain. This means it will be a perfect strain for all times of the day! Grape Diamonds is a mix delicious mix of Pink Grapefruit and Member Berry. Grape Diamonds is said to be coated with a thick layer of white trichomes, with deep emerald leaves painted in purple. It is also said to smell heavily of spicy grapes and undertones of citrus. Some also say they get a gas-like, earth hint from it. The smell and color will vary depending on cultivator and batch. Grape Diamonds is said to have a powerful, euphoric effect that takes hold immediately. Many report feeling "giggly" after smoking.
GG#4 also known as Original Glue or Gorilla Glue #4 is an extremely well known and popular cannabis strain. GG#4 is reported by many to be an indica leaning Hybrid, but can be slightly more energizing depending on the cultivator. GG#4 has said to have an incredible, deep gas scent to it with hints of earthy tones. It is said to be a deep emerald green, with thick trichomes covering the entire bud. This strain won 1st place in LA Cannabis Cup in 204 as well as the High Times Jamaican World Cup.
Join us next week for more fun information about some of your favorite cannabis strains!
———————————————————————————–
MONDAY-WEDNESDAY: 8am-8pm
THURSDAY-SUNDAY: 8am-11pm
Customer Safety During COVID-19
Holyoke Cannabis implements a wide range of sanitation and safety measures. Health and security are major priorities for their walk-in customers. "We are constantly sanitizing our sales floor and counterspace and offer both hand sanitizer and masks to all customers." explains Jacob Black, Marketing and procurement Manager for Holyoke Cannabis. "Customers can also pre-order through our website www.holyokecannabis.com in order to decrease your time spent in store. We take our customers safety concerns extremely seriously.".  If you have any questions or concerns, please call 413-322-8611 and a Holyoke Cannabis Bud Tender will have the answer you need.
Products and Education
Due to the previously mentioned influx of cannabis users joining the recreational market, one major goal of Holyoke Cannabis is to properly educate and inform for both its Budtenders and Customers. Holyoke Cannabis provides an extensive product guide that details/describes all major forms of cannabis intake from yummy edibles to old school buds and everything in between. If you are more of a person-to-person learner, the Holyoke Cannabis staff is more than happy to answer all questions in a warm and friendly environment.
Revitalization of Holyoke and Holyoke Cannabis
With so many amazing business's moving into the beautiful Mill area of 380 Dwight Street, Holyoke Cannabis expects a bright future for economic, infrastructural, and social uplift throughout Holyoke and its surrounding areas. "Holyoke Cannabis is excited to be part of such a driven community of business owners" "We only see things going up from here" remarked Jaron as the sound of new construction rings out from outside.
Location and Access
Access to transportation whether it be long distances, or one town over can be a great concern for customers who wish to partake in cannabis product safely. Holyoke Cannabis and the 380 Dwight St. plaza is located only a short distance from both a train station and local bus stop and is available to all.
Located: 380 Dwight Street, Unit #3, Holyoke 01040, MA.