Picking Your Next Glass Piece with Holyoke Cannabis
By Holyoke Cannabis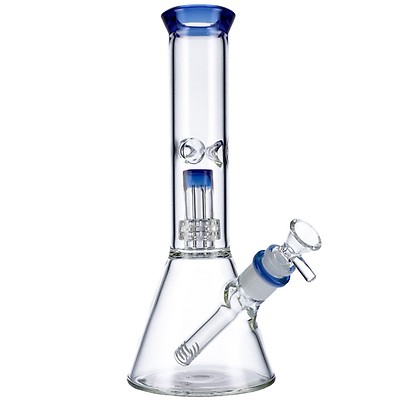 When it comes to choosing a device to smoke you cannabis buds things can get complicated quickly. Whether it is something straightforward like a glass bowl, or more complicated like a water pipe (bong) with many different percolators. Today we will be talking about the different types of water pipe percolators and how to identify them.
Down Stems and Diffused Down Stems:
Many who have used a waterpipe before will be familiar with the down stem. It is the cylindrical hollow rod that connects the bowl-piece of the pipe to the chamber filled with water. There are two main types of down stem. One will be your most basic type with only a single hole to percolate the water in the chamber. The other is a diffused down stem. This will have small slits cut on the sides of the tube towards the bottom.
Shower Head Percolator:
A showerhead percolator for the most part looks just as it sounds. Small and round with slits cut in around the base. It will be submerged in water and is used to greater percolate the water pipe to help clear impurities and cool the cannabis smoke.
Tree Percolator:
A tree arm percolator is another very popular form. A tree percolator will have many small arms that look like the diffused down stems we talked about earlier. They can range in how many arms are attached depending on the water pipe. These arms will dip down into the water chamber and increase percolation.
Honeycomb Percolator:
A honeycomb percolator is another that looks just as it sounds. It is a round flat disk that is placed between the water chamber and the upper tube. These percolators sometimes come stacked one top of each other to increase there effectiveness. Water is drawn though the small holes and create bubbles which can stack on one another.
www.holyokecannabis.com
———————————————————————————–
MONDAY-WEDNESDAY: 8am-8pm
THURSDAY-SUNDAY: 8am-11pm
Customer Safety During COVID-19
Holyoke Cannabis implements a wide range of sanitation and safety measures. Health and security are major priorities for their walk-in customers. "We are constantly sanitizing our sales floor and counterspace and offer both hand sanitizer and masks to all customers." explains Jacob Black, Marketing and procurement Manager for Holyoke Cannabis. "Customers can also pre-order through our website www.holyokecannabis.com in order to decrease your time spent in store. We take our customers safety concerns extremely seriously.".  If you have any questions or concerns, please call 413-322-8611 and a Holyoke Cannabis Bud Tender will have the answer you need.
Products and Education
Due to the previously mentioned influx of cannabis users joining the recreational market, one major goal of Holyoke Cannabis is to properly educate and inform for both its Budtenders and Customers. Holyoke Cannabis provides an extensive product guide that details/describes all major forms of cannabis intake from yummy edibles to old school buds and everything in between. If you are more of a person-to-person learner, the Holyoke Cannabis staff is more than happy to answer all questions in a warm and friendly environment.
Revitalization of Holyoke and Holyoke Cannabis
With so many amazing business's moving into the beautiful Mill area of 380 Dwight Street, Holyoke Cannabis expects a bright future for economic, infrastructural, and social uplift throughout Holyoke and its surrounding areas. "Holyoke Cannabis is excited to be part of such a driven community of business owners" "We only see things going up from here" remarked Jaron as the sound of new construction rings out from outside.
Location and Access
Access to transportation whether it be long distances, or one town over can be a great concern for customers who wish to partake in cannabis product safely. Holyoke Cannabis and the 380 Dwight St. plaza is located only a short distance from both a train station and local bus stop and is available to all.