Holyoke Cannabis Dispensary: 10/22/21 | SIRA Naturals Table Event | 2pm-5pm
Join
Holyoke Cannabis Dispensary
this Friday 10/22/21 from the hours of 2pm-5pm for a fun filled table event with
SIRA Natural's!
Checkout some of your favorite products from
SIRA Naturals
and get educated on important
product
details! Also learn about upcoming products from SIRA Naturals that are in the works.
Learn about some of your favorite Brands and Products
Sira's cultivation program is guided by a mix of staple strains exclusively found at Sira as well as popular strains from well-established breeders. SIRA Naturals internal phenotyping and staff R&D programs help us determine which trending strains we keep or remove from our offerings. We assess our flower for quality through all the steps in a plant's life cycle to ensure only premium flower is packaged.
Sira produces a range of whole flower premium cannabis packaged in 1/8th CR containers. Featuring a mix of staple strains exclusively found at Sira as well as popular strains from well-established breeders.
High-quality single strain flower 1 gram prerolls. Each single batch offering is reviewed by staff prior to grinding to ensure consistency and usability.
---
Origyn Extracts is founded on two guiding principals, to lead the way in the market through authenticity & process. The concept of Origyn has been in the making since 2017. Origyn Extracts and SIRA Naturals started with two people, a couple of rotovaps and some ethanol. Now we have expanded and are known for making some of the best extractions and concentrates Massachusetts has to offer. ORIGYN Extracts offers a wide variety of extract and concentrate consistencies. The SIRA Naturals Extraction team specializes in concentrate and extract innovation with a focus on small-batch products that emphasize terpene preservation. SIRA's Extractions and Vaporizer products utilize a proprietary extractions process that results in Full Spectrum products that allow for the best expression of the cannabis plant.
Available:
---
En-tour-age – a mechanism in which cannabis compounds act synergistically to boost the overall effects of the plant. Inspired by this core philosophy, Entourage brings your vape experience to the next level with high-quality full-spectrum cannabis oil (created with an innovative ethanol extraction method) and terpenes from the cannabis plant to allow for an elevated strain-specific experience. The Sira Extractions team produces a variety of Vaporizer products to fit the needs of a wide spectrum of consumers. Entourage Vapes are the premier Vaporizer products in MA.
Available In 510 Thread (Standard) | Fully Disposable All-in-One units(No Equipment required) | PAX Pod Cartridge's (Proprietary) 
---
Developed in Mass, Wicked Sour Gummies are a chewy, low-dose gummy candy perfect for novice and veteran cannabis consumers alike. Infused with premium, full-spectrum cannabis oil, these delicious gummies are the perfect size so you can control your dosing and enjoy as many as you'd like. Available in 2 flavors; Green Apple, and Tropical! Stay tuned for more flavors!
Hand-crafted in Massachusetts, for Massachusetts. Take pride in knowing exactly what is in your edible.
Savor the treat and let the sour fade away to sweetness. Then let the effects let you sink into relaxation.
Made with love by SIRA's infusions team by pairing the perfect flavors that compliment the full spectrum cannabis oil.
---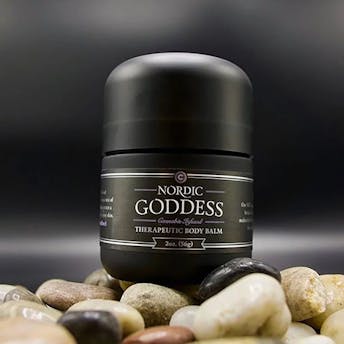 Nordic Goddess' Infused Body Balm combines a unique mix of plant extracts and herbs to create a rejuvenating experience for your skin. Rich moisturizing ingredients including shea butter, tropical coconut oil, and cocoa butter complement cannabis-extracted CBD to provide anti-inflammatory and pain relieving benefits in a lavish cream. Unlock your inner goddess with Nordic Goddess' cannabis Infused Balm.
---

---
BLACK and GREEN signs
Call 413-322-8611 for more information
Or
Please consume responsibly. There may be health risks associated with consumption of this product. For use only by adults 21 years of age or older. Keep out of the reach of children. Nothing for sale.
---
OUR MISSION
Here at Holyoke Cannabis our mission consists of bringing premium, recreational products of all forms into a friendly, well versed dispensary. Whether you are someone who enjoys throughout the day, or a first-time user you can rely on Holyoke Cannabis to elevate your recreational experience. We supply a diverse selection of flower, pens, edibles, pre-rolls, concentrates, everything!
Our friendly staff is here to help with any and all of your cannabis needs. With as much or as little hands on time with our budtenders and staff, you are left to choose what buying experience pleases you. Just browsing or do not need assistance? Not a problem! Just let us know when you are ready, and we will supply you with whatever you need. Paper menus and seating will be available around the shop. Come in today and see why we are your go-to Massachusett's recreational dispensary!
Customer Safety During COVID-19
Holyoke Cannabis implements a wide range of sanitation and safety measures. Health and security are major priorities for their walk-in customers. "We are constantly sanitizing our sales floor and counterspace and offer both hand sanitizer and masks to all customers." explains Jacob Black, Marketing and procurement Manager for Holyoke Cannabis. "Customers can also pre-order through our website www.holyokecannabis.com in order to decrease your time spent in store. We take our customers safety concerns extremely seriously.".  If you have any questions or concerns, please call 413-322-8611 and a Holyoke Cannabis Bud Tender will have the answer you need.
Products and Education
Due to the previously mentioned influx of cannabis users joining the recreational market, one major goal of Holyoke Cannabis is to properly educate and inform for both its Budtenders and Customers. Holyoke Cannabis provides an extensive product guide that details/describes all major forms of cannabis intake from yummy edibles to old school buds and everything in between. If you are more of a person-to-person learner, the Holyoke Cannabis staff is more than happy to answer all questions in a warm and friendly environment.
Revitalization of Holyoke and Holyoke Cannabis
With so many amazing business's moving into the beautiful Mill area of 380 Dwight Street, Holyoke Cannabis expects a bright future for economic, infrastructural, and social uplift throughout Holyoke and its surrounding areas. "Holyoke Cannabis is excited to be part of such a driven community of business owners" "We only see things going up from here" remarked Jaron as the sound of new construction rings out from outside.
Location and Access
Access to transportation whether it be long distances, or one town over can be a great concern for customers who wish to partake in cannabis product safely. Holyoke Cannabis and the 380 Dwight St. plaza is located only a short distance from both a train station and local bus stop and is available to all.