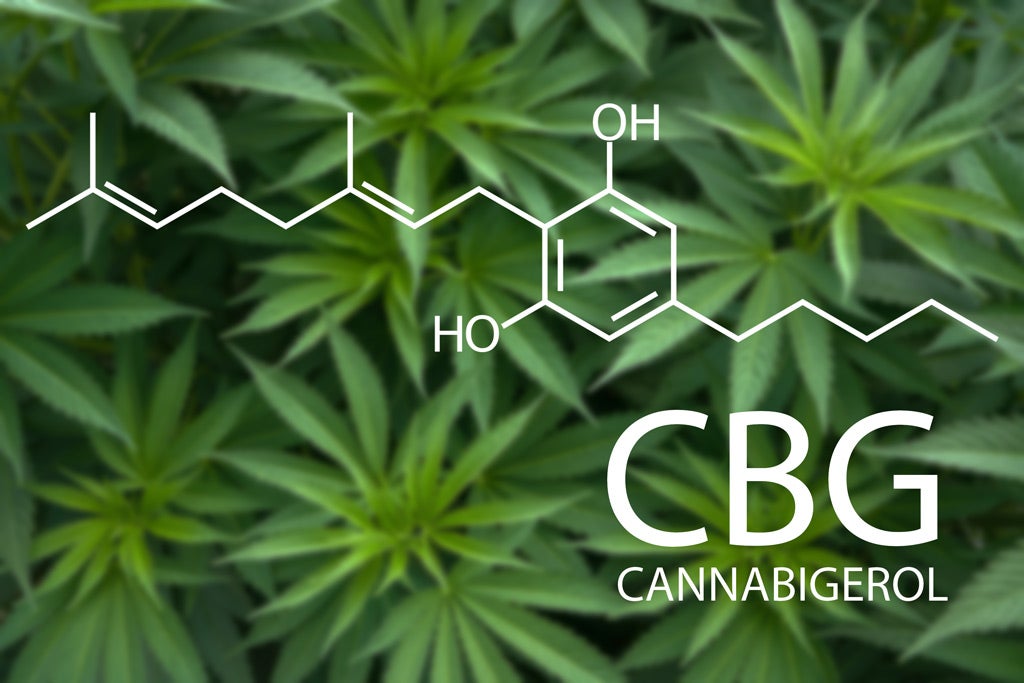 As recreational cannabis becomes more popular during the current cannabis revolution, the level of available information and education has risen significantly. As more cannabis product options become start hitting the market, the level of choice given to the consumer also rises. Now there are many products that focus on specific cannabinoids like CBD, CBN, THCV, D8, and CBG in conjunction with the standard D9THC and THCA. Some of these we have previously discussed in other articles(CBN). Today we will be focusing on CBG, a cannabinoid that can be found in most cannabis flower and has started to gain popularity in higher concentrations in other products. It must be said that research on cannabis and cannabinoids is in its infancy and needs far more time before coming to any conclusive results.
Like the ever-popular THC and CBD. CBG is another naturally forming cannabinoid within the cannabis plant. Unlike THC though it is generally found in much lower levels closer to 1%. CBG is created through internal conversion within the plant. Starting off as CBGA and slowly converting into CBD, THC, and CBG through either exposure to light/heat or after a prolonged period of time. Now that genetic manipulation has become more popular in cannabis cultivation, breeders have created strains that are made to produce much higher levels of CBG. CBG can also be harvested and extracted from a premature plant, before the CBGA has time to convert into other cannabinoids.
CBG has been said to have many potential benefits. Though far more research is still needed before coming to any final conclusions. It has been said to be beneficial for glaucoma as many users have reported a relief of pressure behind the eye. It has also been reported to have antibacterial properties. One of the most popular uses currently is its potential benefits to stimulate appetite. This can be extremely important for many who are having a difficult time taking in food for multiple reasons.
BLACK and GREEN signs
Call 413-322-8611 for more information
Or
Please consume responsibly. There may be health risks associated with consumption of this product. For use only by adults 21 years of age or older. Keep out of the reach of children. Nothing for sale.
———————————————————————————–
MONDAY-WEDNESDAY: 8am-8pm
THURSDAY-SUNDAY: 8am-11pm
Customer Safety During COVID-19
Holyoke Cannabis implements a wide range of sanitation and safety measures. Health and security are major priorities for their walk-in customers. "We are constantly sanitizing our sales floor and counterspace and offer both hand sanitizer and masks to all customers." explains Jacob Black, Marketing and procurement Manager for Holyoke Cannabis. "Customers can also pre-order through our website www.holyokecannabis.com in order to decrease your time spent in store. We take our customers safety concerns extremely seriously.".  If you have any questions or concerns, please call 413-322-8611 and a Holyoke Cannabis Bud Tender will have the answer you need.
Products and Education
Due to the previously mentioned influx of cannabis users joining the recreational market, one major goal of Holyoke Cannabis is to properly educate and inform for both its Budtenders and Customers. Holyoke Cannabis provides an extensive product guide that details/describes all major forms of cannabis intake from yummy edibles to old school buds and everything in between. If you are more of a person-to-person learner, the Holyoke Cannabis staff is more than happy to answer all questions in a warm and friendly environment.
Revitalization of Holyoke and Holyoke Cannabis
With so many amazing business's moving into the beautiful Mill area of 380 Dwight Street, Holyoke Cannabis expects a bright future for economic, infrastructural, and social uplift throughout Holyoke and its surrounding areas. "Holyoke Cannabis is excited to be part of such a driven community of business owners" "We only see things going up from here" remarked Jaron as the sound of new construction rings out from outside.
Location and Access
Access to transportation whether it be long distances, or one town over can be a great concern for customers who wish to partake in cannabis product safely. Holyoke Cannabis and the 380 Dwight St. plaza is located only a short distance from both a train station and local bus stop and is available to all.
Located: 380 Dwight Street, Unit #3, Holyoke 01040, MA.